cnWave 60 GHz fixed wireless solutions deliver multiple Gbps of reliable connectivity and at a cost much lower than fiber. One of the key advantages of cnWave is that it is quick to deploy and enables a fully manageable, highly redundant distributed mesh architecture, as well as simple point-to-multipoint and point-to-point architecture. The applications for cnWave are endless.
cnWave 60 GHz technology is standards-based with full Terragraph compliance leveraging 802.11ay industry standards while extending these technologies with Cambium's differentiating features in beam-steering antennas, industrial design, network management and software optimizations.
Cox Communications, the largest private broadband company in the U.S., shared that they have partnered with Future Technologies Venture, Dell Technologies and Cambium Networks to deploy a private wireless network in Downtown Las Vegas covering eight city blocks in the popular Fremont Street area. The initial solution powers video cameras and real-time data analytics to improve safety and security, while providing the foundation for even more smart city applications in the future.
Read the press release
Cambium Networks is proud to work with The Linux Foundation and its members on the LF Connectivity open source project to address challenges delivering high-bandwidth fixed and mobile technology.
Details in the press release
Voneus Connects Dalton Piercy with Gig Speed
Typical applications include:
Fiber network extensions
Gigabit residential & business broadband access
MDU Connectivity
Outdoor Municipal Wi-Fi backhaul infrastructure utilizing streetlights & power poles as mounting assets
Smart City connectivity for traffic cameras & sensors
Building-to-building connectivity for campus and enterprise environments
Parking Lot & perimeter security
Why choose cnWave 60 GHz fixed wireless from Cambium Networks?
Designed for a variety of applications including residential & business broadband, smart cities, municipalities, and building-to-building campus connectivity, cnWave delivers a higher ROI and lower TCO than fiber deployments. Advantages include scalability, reliability, management and industrial design.
cnWave 60 GHz is fully Terragraph compliant. The Meta Connectivity organization developed an ecosystem and a set of technologies to support the rapid adoption of 60 GHz spectrum as the need for multiple Gbps in an unlicensed spectrum was identified. Cambium evaluated many options for 60 GHz and ultimately saw that Terragraph offered the best way forward. To this end, Cambium is fully Terragraph compliant at the chipset, network node and network management layers. Being compliant with all three layers is key to taking advantage of the scalability and interoperability of the Terragraph ecosystem.
Outperforms traditional Wi-Fi mesh with high reliability and dramatically lower latency. Distributed networks using cnWave have less than 1ms latency per node and the mesh re-converges in less than 250ms all while delivering multi-Gbps throughput. The distributed network is constructed by connecting each V5000 to up to four V5000s. The additional capacity at each V5000 is then used to connect client nodes with up to 15 total devices per sector (or 30 per V5000). The image below shows a typical distributed network. This example is from the network deployed in the dense city environment in San Jose.
Pentanet Deploys cnWave 60 GHz Fixed Wireless to Offer Gigabit Speeds in Perth, Australia
The City of San José deploys cnWave gigabit fixed wireless infrastructure for
municipal Wi-Fi in the downtown area.
"We applaud Cambium Networks for their technological innovation, helping to deploy multi-gigabit connectivity worldwide with their latest cnWave 60 GHz solution. These field installations of 60 GHz by service providers are a great validation of the opportunity 60 GHz mmWave Fixed Wireless yields and of Cambium's cnWave product, utilizing Qualcomm Technologies' 60 GHz solutions."

– Rahul Patel, senior vice president and general manager, connectivity at Qualcomm Technologies, Inc.
Applications
Multi-gigabit wireless communications at the edge of the network provide high-speed access to bridge the digital divide in the following applications:
Architectures
Point to Point: All cnWave devices can be used in PTP mode: V5000 to V5000, V3000 to V3000 and V1000 to V1000. The device choice is primarily based upon the desired range with V1000 and V5000 PTP links covering a few hundred meters and V3000 PTP links extending up to 1.5 km. The diagram above shows a V3000 to V3000 PTP link connecting two buildings. In this topology the end-to-end (E2E) controller is typically running on one of the nodes but could still be done externally if desired.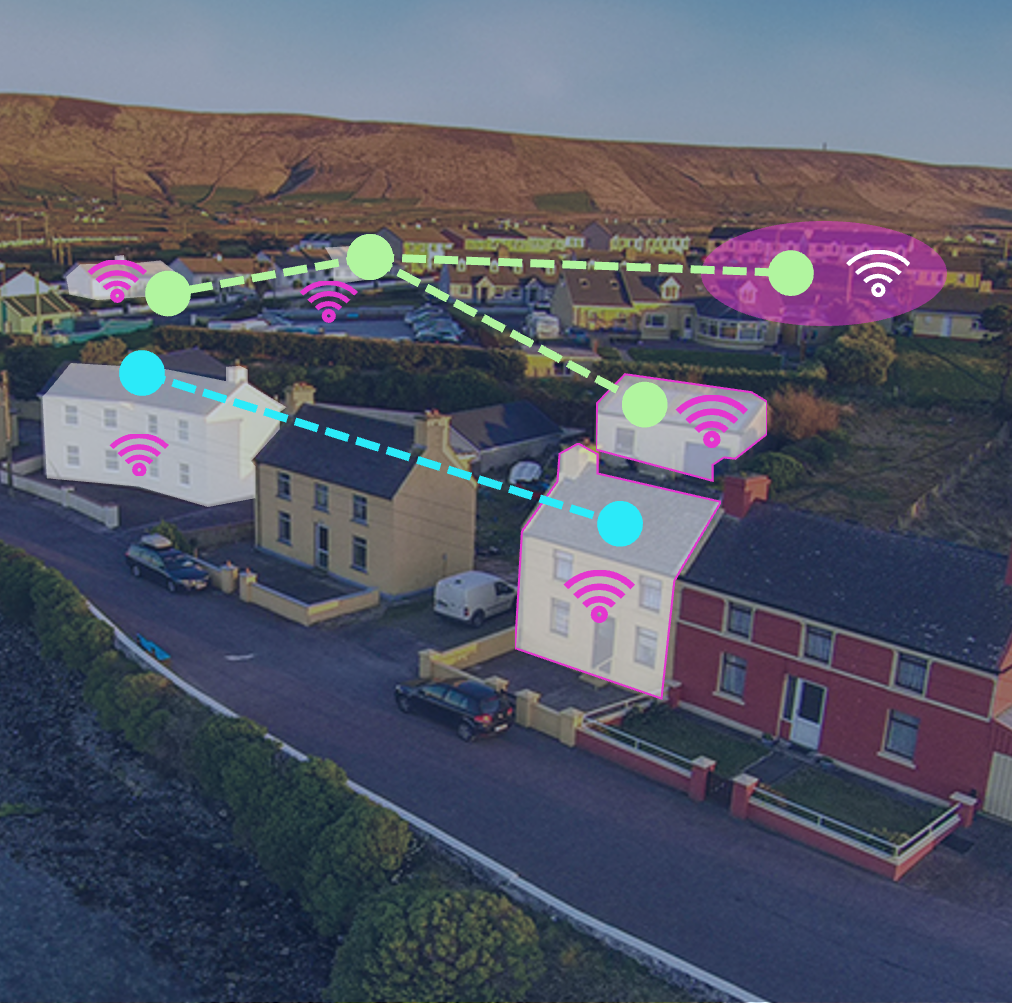 Point to Multipoint: In this case the V5000 acts as a hub distributing traffic to multiple subscribers (Client Nodes V3000 and V1000) distributed across the sector width. The selection of client node device is driven primarily by the desired range with the V1000 covering approximately 200 meters and the V3000 covering out to 500-700 meters. The V5000 has two sectors each supporting up to 15 devices.
Distributed Network (Mesh): Distributed Network build upon PMP and PTP modes by creating a cluster of radios forming a loop or mesh structure. Distributed networks have several advantages when deploying in 60 GHz spectrum. Since 60 GHz needs line of sight, the distributed network allows extension around buildings and other obstacles by adding relay nodes. Distributed networks typically are designed to allow multiple paths for each client node to reach the POP. With these multiple paths and automatic re-routing of traffic, the entire network has high availability and resiliency.
Finally, distributed networks are easier to extend by adding DN's to expand into new areas and adding POPs to inject added capacity. With cnWave and Terragraph compliance, the OPEN/R protocol automatically creates optimized network paths, monitors network outages and quickly reconverges the network in case of connectivity problems.
The 802.11ay Standard
TDMA/TDD vs CSMA
802.11ay is based on TDMA/TDD channel access with network synchronization. This technology is preferred for outdoor fixed wireless applications because the synchronized system reduces interference and maximizes frequency reuse.
Support for More CPE
The 802.11ad standard supports 8 Client Nodes per sector, while 802.11ay supports 15 Client Nodes per sector. As a result, the solution opens more opportunities for business cases and deployment strategies.
Support for Mesh Architectures
The 802.11ay standard also supports meshing technology to provide a highly reliable and flexible Layer 3 architecture to facilitate network design and deployment.
Channel Bonding Technology
Effectively Doubling Throughput With Channel Bonding
Channel Bonding allows two contiguous channels to be merged into a single wideband channel, thereby doubling the capacity to 4.32 Gbps. 802.11ad does not support Channel Bonding and is limited to a single radio. Hence 802.11ay will always outperform 802.11ad.
Easy Network Management
cnWave networks are easily managed via Cambium's cnMaestro Network Management System which can be deployed as an on-premises instance or in the cloud. cnMaestro is highly secure and provides operators with complete visibility including the overall network, sites, and individual nodes. Additional functionality includes monitoring, configuration, and firmware updates as well as alarms, reports, and statistics. cnMaestro also supports a RESTful API for north-bound integration into higher-layer network management and provisioning systems.
An added major benefit of cnMaestro is that it can be utilized to manage additional Cambium network devices, such as outdoor public Wi-Fi access points, in the event the city decides to augment the BSL connectivity project with public wi-fi services, whereby the outdoor access points receive their bandwidth (and power) via the cnWave mesh network.
Video: Getting Started with cnWave 60 GHz Planning Tools