Overview
Reliable access to Wi-Fi is crucial for ensuring optimal educational outcomes for students through online learning. However, in Nigeria, where the average daily provision is less than 10 hours and often suffers from poor voltage, the availability of consistent electricity supply poses a challenge. Delta State University sought an affordable, well-managed, and scalable connectivity solution to overcome their power limitations while ensuring equal access to learning materials for students with diverse backgrounds and learning styles.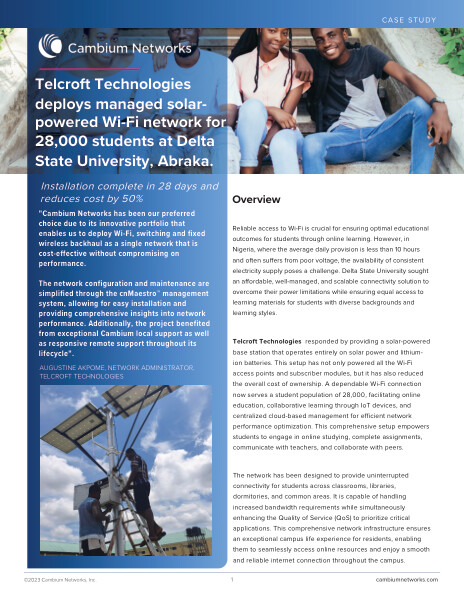 Challenge
Situated in the Niger-Delta region, Delta State University faced the need for comprehensive campus-wide Wi-Fi connectivity. Unfortunately, no internet service provider or fixed wireless operator extended their services to the area. As a result, students had to rely on inadequate and limited 3G mobile internet, leading to an unreliable and subpar online experience. To address this issue, Telcroft Technologies entered into a 15-year agreement with Delta State University. They provided a comprehensive solution by delivering turnkey campus-wide Wi-Fi connectivity, accompanied by 24/7 NOC (Network Operations Center) and support services.
Solution
From the initial planning phase to onboarding, installation, and testing, the entire process took 30 days. Remarkably, the network went live on the 28th day. Airtel Nigeria, the service provider, delivered the necessary capacity via a licensed microwave radio link, which was terminated on a tower situated on the Delta State University campus. To distribute the bandwidth effectively, a three-sectored ePMP™ 3000 system was deployed on the tower in the campus. This system facilitated the connection of ePMP Force 300 subscriber modules and Wi-Fi 5 access points, which were mounted on poles throughout the campus. The deployment of 12 ePMP 3000 fixed wireless base stations was carried out across the five campuses of Delta State University in Abraka. These base stations were strategically distributed in a point-to-multipoint architecture, with each station connecting to Force 300 subscriber modules. In addition, e505 outdoor access points were scattered throughout the campus, ensuring widespread coverage and connectivity. To meet the requirements of the physical planning department at Delta State University in Abraka, Nigeria, three units of e501s (120-degree sector) and a Force 300-16 were installed on each pole for outdoor coverage. This approach minimized the number of poles needed for installation while ensuring compliance with the university's regulations.
Result
By partnering with Telcroft Technologies, Delta State University has experienced a significant reduction of 50% in Total Cost of Ownership (TCO). Also, through a 15-year agreement, Telcroft handles the management and 24/7 support of the network, allowing the university to allocate its resources towards its core educational objectives. This arrangement eliminates the need for the university to make upfront capital expenditures for building the network infrastructure. As a result of implementing a campus-wide Wi-Fi network, Delta State University has witnessed a notable increase in student enrollment, leading to a rise in revenue generation for the institution. Over a span of two years, the number of students residing in the school hostels has surged by 70%.