Overview
In today's digital age, guests have become increasingly tech-savvy and expect seamless digital interactions throughout their entire journey, from booking to check-out. By focusing on providing a superior digital guest experience, hospitality properties can enhance customer satisfaction, drive repeat business, and gain a competitive edge in the industry.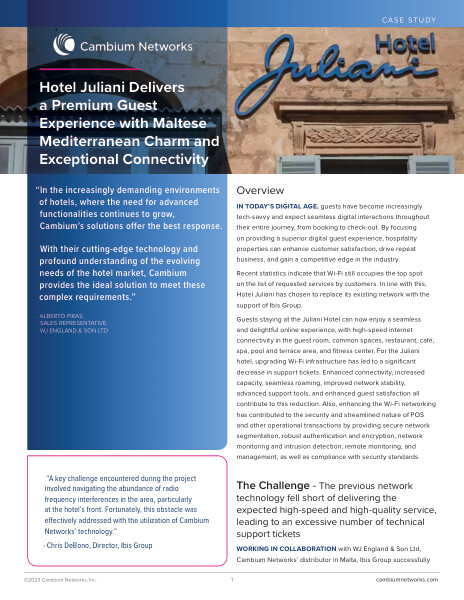 Challenge
The previous network technology fell short of delivering the expected high-speed and high-quality service, leading to an excessive number of technical support tickets.
Solution
THE INTEGRATION OF Cambium Networks' Wi-Fi access points, managed remotely through a single pane of glass, ensures the new network provides optimal bandwidth for seamless browsing and streaming experiences. Moreover, the network is robust, reliable, and secure for payment transactions, shopping, reservations, checkout, and more.
Indoor Wi-Fi
• e425 wall plate indoor access point in the guest rooms for Wi-Fi and wired port access
• e410 enterprise indoor access point in meeting rooms and gathering areas for higher capacity and coverage
Outdoor Wi-Fi
• e501 outdoor access point on the terrace to provide seamless coverage
Network Management
• cnMaestro™ cloud-based software platform for secure, end-to-end network control
Results
THANKS TO THE EFFECTIVE IMPLEMENTATION of the upgraded wireless infrastructure, guests staying at the Juliani Hotel can now experience a smooth and pleasant stay, benefiting from fast and reliable internet access throughout the entire premises. As a direct outcome of the new network deployment, the IT staff has seen a significant decrease in the number of technical support tickets, almost reaching zero.