Overview
WIBERNET WINS BROADBAND CUSTOMERS away from established service providers. A Wireless Internet Service Provider (WISP) in Cape Town, South Africa serving thousands of business and residential subscribers, they have been challenging the status quo since 2015 by delivering internet through the air. Wibernet's passion is to always bring excitement and innovation to the world of connectivity.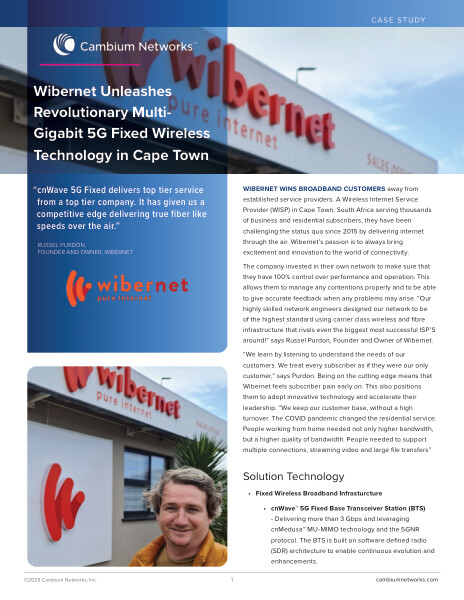 Deliver Superior Experiences
The company invested in their own network to make sure that they have 100% control over performance and operation. This allows them to manage any contentions properly and to be able to give accurate feedback when any problems may arise. "Our highly skilled network engineers designed our network to be of the highest standard using carrier class wireless and fibre infrastructure that rivals even the biggest most successful ISP'S around!" says Russel Purdon, Founder and Owner of Wibernet.
Solution Technology
• Fixed Wireless Broadband Infrasturcture
• cnWave™ 5G Fixed Base Transceiver Station (BTS)
– Delivering more than 3 Gbps and leveraging cnMedusa™ MU-MIMO technology and the 5GNR protocol. The BTS is built on software defined radio (SDR) architecture to enable continuous evolution and enhancements.
• cnWave™ 5G Fixed Customer Premise Equipment (CPE) – Provides over 400 Mbps of aggregate throughput using 5G NR protocol and SDR architecture. Wibernet also uses the following Cambium Networks equipment in their network:
• PMP 450m fixed wireless broadband
• ePMP fixed wireless broadband
• cnMaestro™ cloud management
Results
"EVERYONE HAS BEEN EXTREMELY HAPPY with the service over Cambium's 5G Fixed solution," says Purdon. "This technology is a game changer for us because we have the flexibility to offer 200 Mbps services to business and 50 Mbps to home users without breaking a sweat. This has taken our business to the next step."