Overview
We believe that all wireless spectrum is a scarce natural resource and radio- based solutions should use that resource responsibly. Our customers have a choice in deploying the wireless solution best suited for their requirements, whether it's in a classroom or retail store, over a large geographic territory, or spanning a smart city or industrial environment.
We challenge fiber with wireless solutions that deliver last mile network performance and reliability. We know that wireless networks must constantly evolve and operate without physical human intervention. Cambium Networks delivers gigabit wireless solutions that just work.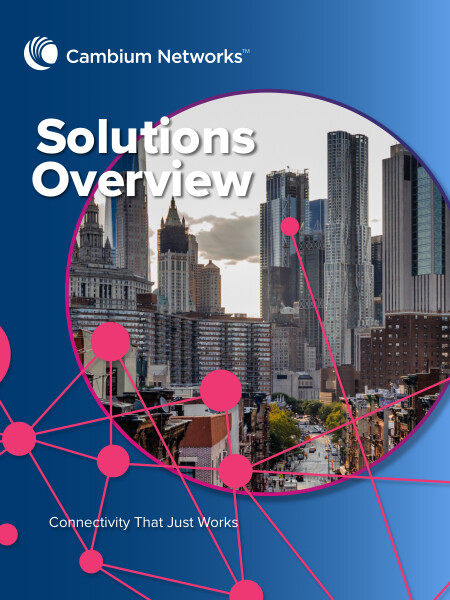 Organizations need to deliver top-notch online experiences and do so with a minimum of resources. With Cambium Networks' comprehensive portfolio of wireless, wired, security and SD-WAN solutions, you can deploy technology that simply works. Cambium technologies deliver outstanding user experiences across your enterprise operation, enabling you to focus on your business and applications rather than individual network elements.
Cambium's approach to building networks leverages our decades-long foundation of providing wireless network solutions that deliver:
• ONE converged IT experience that simplifies operations
• Best-in-class operational efficiency delivered by intelligent automation
• Consistently predictable performance enabled by application optimization Cambium's ONE Network Just Works.
Enterprise efficiency
A Fortune 150 oil and gas producer with global operations is improving oil field operational efficiency and enabling digital transformation initiatives with an integrated wireless communications infrastructure.
Broadband Service Provider growth
Pentanet is building neXus, a multi-gigabit fixed wireless network across the metro area in Perth, Australia, to provide internet access for business and residential subscribers.
Comprehensive Education coverage
Devonport High School for Boys rapidly rolled out digital delivery of teaching with a wireless infrastructure that enables a serverless school that delivers cloud-based, personalized learning.
Scalable Municipal Wi-Fi backhaul
The City of San José, California has deployed public Wi-Fi in strategic corridors within the downtown area. This Smart City Vision project leverages the latest cnWave 60 GHz as the network infrastructure installed on streetlights, traffic lights, and buildings throughout the downtown corridor to support a network of outdoor Wi-Fi access points.
Cambium's ONE Network enables excellent online experiences with fewer resources and IT personnel. Enterprises, managed service providers, broadband service providers, and government agencies can not only shift resources from managing a wide range of network technologies in silos to managing the network fabric holistically, thus freeing up IT resources to focus on their business and specific applications. This efficiency is achieved through automated tools in Cambium's ONE Network to plan, deploy monitor and optimize — reducing the human introduced errors in configuration and eliminating security holes.