Are you feeling confined by coaxial cable? What do you do if you have an older hotel or apartment building, and residents want gigabit Wi-Fi? On World Wi-Fi Day, I would like to share with you a recipe for delivering gigabit speeds to buildings with old-world charm – at a fraction of the cost and hassle of rewiring the entire building.
Residents and guests want high-speed connectivity with low latency for gaming, conferencing and file transfer. They want access to be simple, and they want coverage across the entire venue. Property owners want to deliver a superior digital experience while also improving security and efficiency. Newer buildings have the lead with a fiber infrastructure. Older buildings can now also support Wi-Fi 6 speeds without replacing the coax throughout the building.
"It's all about delivering an exceptional customer experience for both the property owner and hotel guests," says Pierre Trudeau, President and CTO of Positron Access Systems. "It takes the right technology and partners to meet this expectation."
The G.hn Aggregation Multiplexer (GAM) from Positron delivers up to 1.7 Gbps aggregate bandwidth with low latency over the existing coax, or telephone pairs. This is an ideal backbone for Cambium Networks Wi-Fi 6 indoor access points (AP) to be deployed in every other room to maximize coverage. In two older hotel projects, each GAM served 16 APs and 32 guest rooms.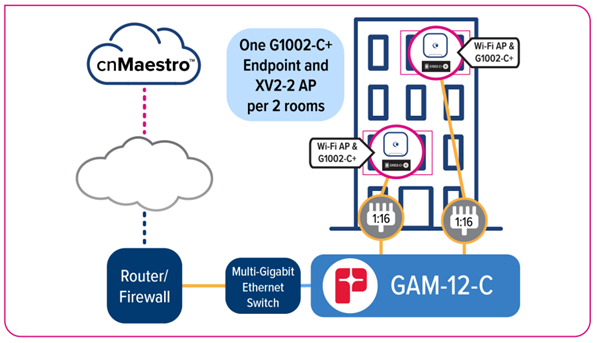 "When a property owner is sitting on coax, we can use the infrastructure to bring Gigabit capabilities," says Kyle Beauchamp, Vice President, ImpruviX Division of World Cinema. "It's an effective way to get them from either Wi-Fi 2 or 3 to Wi-Fi 6 without construction and associated costs."
Teamwork delivers exceptional digital experiences. Pierre Trudeau explains, "By leveraging World Cinema's world-class design, installation, and network management expertise, and harnessing the Positron GAM's ability to extend gigabit speeds over the existing in-building wiring along with Cambium's unmatched Wi-Fi 6 performance, efficiency, and reliability, we can create a seamless and satisfying user experience for everyone."
I encourage you to download the details in the Boost Efficiency Using Existing Wiring and Indoor Wi-Fi solution paper.