Overview
Visibility to information is power. Visibility to broadband security information provides exceptional digital experiences for end users. Pentewan Sands, a five-Star Holiday Park in the UK, offers all the amenities for families to have the perfect seaside stay. One key part of that experience is to have consistently reliable and secure high-speed connectivity.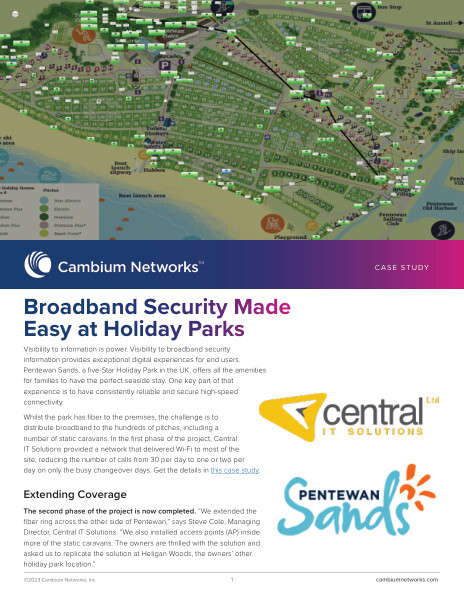 Enhance Security
"A security breach ruins the experience for everyone," said Craig Jones, Business Development Manager, Central IT Solutions. "A key element of the second phase is to add security across the wired and wireless network that is easy to manage and thereby maximizes end-user satisfaction." Pentewan Sands focuses on the vacationers' experiences. The security solution is hard at work in the background. The system ensures network protection of ongoing and emerging threats and established an application-intelligent WAN edge with load balancing, routing, bandwidth control and WAN Quality of Service (QoS). From the end-user point of view, streaming video, gaming, conference calls and sharing photos and files all go smoothly.
The Solution
The entire network is now better positioned for security. The fiber infrastructure, Ethernet switching, Wi-Fi access points and SD-WAN and Security aspects are updated.
The Results
"The NSE solution is easy to use," says Steve. "It took me seven minutes or so to get it running on my home network. It picks up everything." With vacationers bringing over a dozen devices into each cabin each week the system watches vigilantly for vulnerabilities and issues.