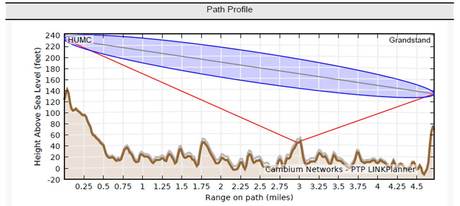 CAMBIUM LINKPLANNER

PTP LINKPlanner is Cambium's customized tool for designing and configuring Point-to-Point links. The application allows operators to determine link performance characteristics for the PTP 800/810 Series Licensed Ethernet Microwave systems and for the PTP 250, 500, 600 and 650 Series of unlicensed and defined-use licensed wireless bridges. Available for PCs and Macs, LINKPlanner allows you to conduct "what if" scenarios based on geography, distance, antenna height, transmit power, and other factors to optimize system performance before purchase.

With its elegant link design and intelligence, the newly improved tool continues to grow in popularity as the most trusted and intuitive RF link planning tool in the industry. Tens of thousands of links have been successfully deployed across the globe using the LINKPlanner.
 
Quick Start – Path profiles can be automatically imported into the LINKPlanner tool when you create a new link using the Path Profile Web Service.

Graphical Display – Optimize a link before deployment by changing input data to see the effect on performance and throughput. For example, if a link calculation indicates low throughput, then a number of factors (product type, frequency, channel bandwidth, antenna height, antenna size etc) can be changed to see the improvement on link performance.

Time-Saving Features – Easy-to-use pull-down menus cut learning time significantly and performance reports provide time-saving deployment guidelines. In addition, a single link or multiple links can be planned simultaneously. For PTP 800/810 Series link planning, you can obtain a licensed microwave Bill-of-Materials (BOM) to save you additional time during the ordering process.

Timeliness and Reporting – Typically the link planning process takes approximately an hour, and the resulting report provides graphical and textual detail of the path and its projected performance.

Download – The tool can be downloaded from our support pages.